Lee Griessel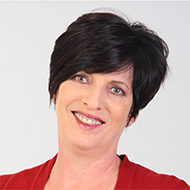 Lee is an experienced leadership and executive coach. She was born in Swaziland and grew up within that culture in her formative years. At a very young age, she was exposed to several different cultures including a very rigid strict culture causing her to question fairness and diversity.​Lee spent much of her youth and late teens in Zimbabwe and experienced the changes there as the country went through significant shifts in government and ways of work.​
Lee has run her own coaching practice since 2007 and has many years of experience in the Corporate as well as small business environments.​  Lee has experience in the IT arena from programming, business analysis and project management and has enjoyed time in various industries. Lee has also had extensive experience in management and leadership and has been in various senior management roles. Her roles as businesswoman, mother, and entrepreneur allow her to have great insight into some of the areas that impact individuals in the workplace.
Lee focuses on supporting in CEOs to develop their leadership skills as well as supporting exco team members to develop executive presence. Her work in self leadership and team effectiveness enables teams to take ownership and build resilient cultures. 
Through this work, Lee has supported many initiatives that directly address diversity and inclusion issues in the workplace. Her skills, knowledge and lived experience  support her in working at many different levels.​
She has worked on cross border initiatives in many African countries, where cultural issues and ways of work were explored, and where leadership consciously created more empowering and inspired workplaces. Over the last 2 years, Lee has expanded her business and now does most of her coaching virtually. This has allowed her to engage with a diverse client base from many different companies, cultures, and countries. Lee now has clients in the UK, USA, Italy, Slovenia, India, Korea, Singapore, Indonesia, Canada, Morocco, Australia, and South Africa.
She has also supported interns from  disadvantaged backgrounds and supported organisations in developing and enabling many small businesses through their supplier development programmes.​